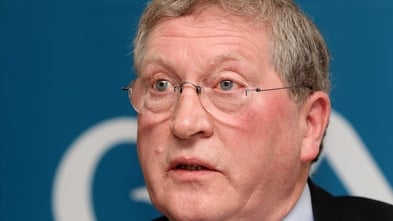 Dr Danny Mulvihill
Tuesday, 14 December 2010 19:28
The GAA's Medical Scientific & Welfare Committee has announced an update to its position paper on Cardiac screening following the completion of a two year research programme in which nearly 300 GAA players were examined in an attempt to assess the effectiveness of various screening methods.
Following consideration of the results of the programme and the most up to date international best practice guidelines, the GAA have advised that the most effective way to identify risk is for players over the age of 14 to undergo cardiac screening on one occasion.
It is also advised that this process be repeated before the age of 25. Players should consult their team or family doctor if they wish to get screened and screening should consist of completion of the GAA's Cardiac Screening Questionnaire, a Physical Examination and an ECG.
The Chairman of the GAA's Medical, Scientific and Welfare Committee, Dr Danny Mulvihill said: 'The instance of Sudden Cardiac Death in the general populace under 35 is a rare occurrence and remains very difficult to predict. The study we undertook would indicate that cardiac screening along the lines we have suggested is the best predictor of potential risk.
He added that while no screening programme is 100% effective, it has been shown to help in identifying risk in the general populace. Dr Mulvihill also welcomed the recent report of the National Taskforce on Sudden Cardiac Death which had found that less than one in ten of all instances of the condition occurred while under exertion such as playing football or hurling.
The Medical Committee today also announced details of a new initiative being rolled out in association with the GPA which will assist doctors in interpreting ECG's. Dr Muvihill explained: 'Interpretation of ECG's in athletes can present difficulties and where difficulties arise, the GAA in conjunction with the Gaelic Players Association (GPA) have implemented a programme whereby any doctors carrying out a cardiac screening programme for a GAA player will be able to send that ECG to the cardiac department in the Mater under Dr. Joseph Galvin to have a sports cardiology opinion on the ECG.'
He said that the availability of such a facility should prove extremely beneficial in assisting diagnosis.
The project will be funded as part of the player welfare initiatives being rolled out by the GPA in association with the GAA and follow similar initiatives undertaken in this area by the GAA including and training initiatives for club members, officers and match officials.